OCTOBER 2017 RECAP
Hi there! Hope you are doing fine.
If you have been a subscriber to the Link Collection you'll notice that the format of today's (and future) Link Collections are different than usual. I enjoy collecting the links that I find useful and share them with you, but lately I have felt that the old format had become somewhat impersonal and honestly a bit boring to do. To make up for that and to keep wanting to share what I find interesting, I'm changing the format of the email list to something like a monthly journal and post it on the blog at the same time (Shout out to Will Gibbons for introducing this format and serve as a great inspiration!). The email will, as always, be full of resources. However, rather than being shared as a list, they'll now be revealed through short stories and anecdotes from what I've been up to the past month in my life as a freelance 3D artist. Let's dive into it head first. I hope you'll find the new format interesting and entertaining.
But first: Join more than 2600+ CG enthusiasts and sign up below if you want to get these post in your inbox right when they are published:
KEYSHOT RENDER CONTEST
Besides staying busy with a few comprehensive client animation projects (that I can't share yet), I carved out time this month to participate in the KeyShot Render Contest.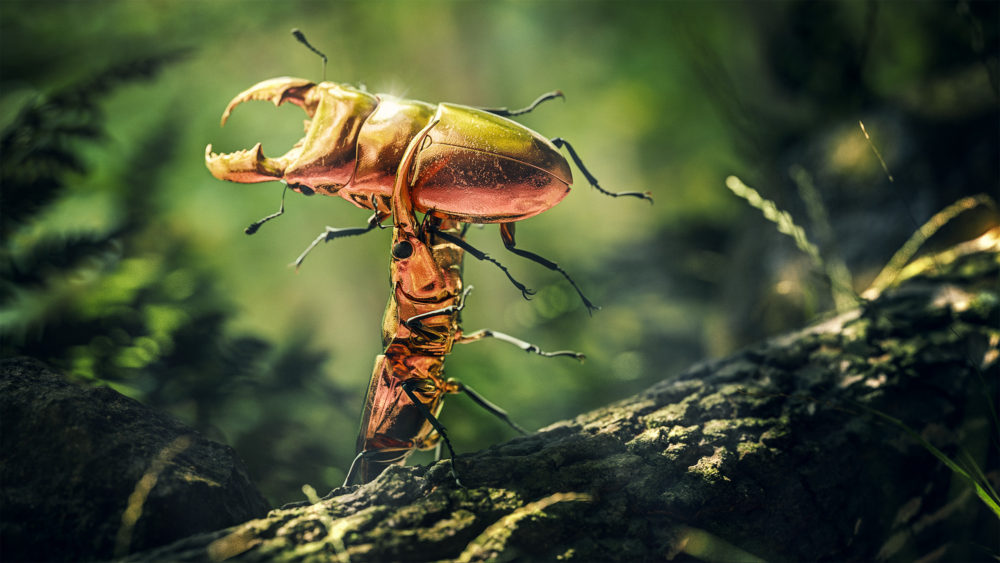 With the main requirement of showing of one or more of the new materials introduced in KeyShot 7, I started by doing a quick brainstorm on interesting and unconventional ways to do that. During that I realised that the new anodised finishes would be awesome for the shield of jewel beetles. I decided to go with this idea as it also would allow me to do something different from the usual studio shots that I mostly do. From a resource of 30 bug models I knew but never had had the chance to take advantage of, I picked a stag beetle as it would allow me to pose a visually interesting fight between two of them as seen in nature.
All models used in the final shot have been sourced from different places online. Some for free and some paid. The beetles are from a free source (for commercial projects as well!): http://zerokobo.web.fc2.com/ Stone and trunk is from https://www.textures.com/ while the grass and fern is from https://megascans.se/
Model prep
The free stag beetle model is super nice. However, I had to bring it into Modo, to be able to split the mesh apart, create a duplicate and pose them in their fighting position.
The stone and trunk was brought into Modo as well to apply and bake the displacement map into the geometry before bringing them into KeyShot. Grass and fern were imported directly and carefully positioned to create depth in the scene and act as a natural framing for the beetles.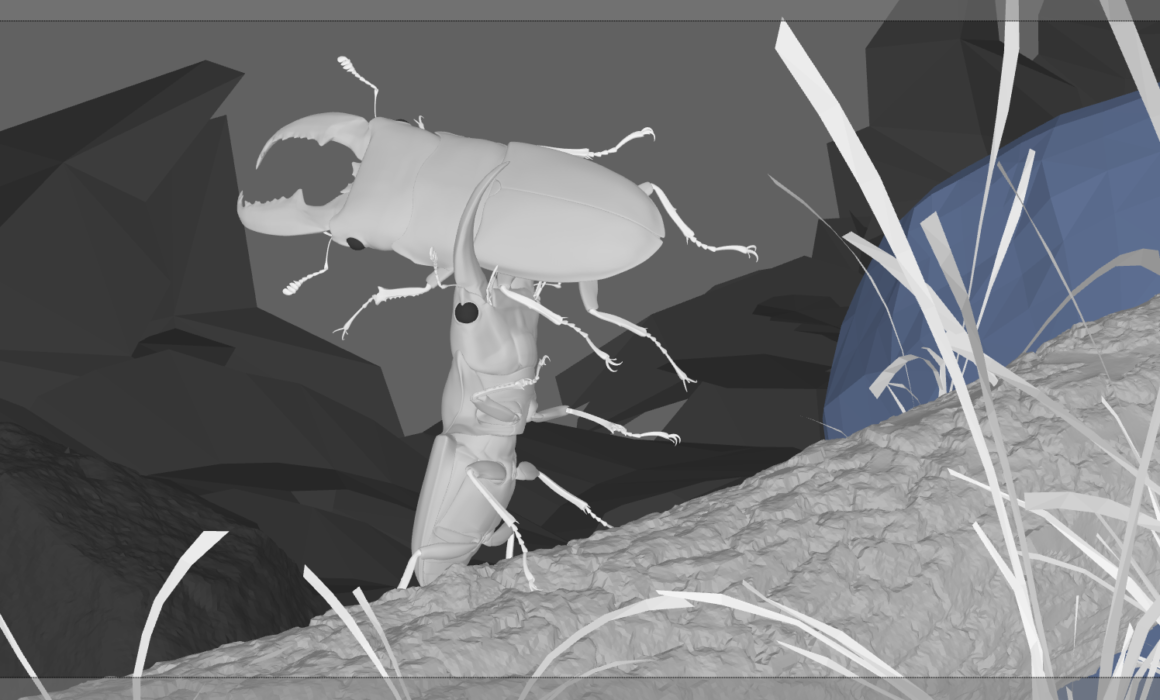 Lighting
The general lighting (and reflections) in the scene is caused by a free forrest HDRI from hdrmaps.com. 
The pattern of sunlight and shadows are created using a sphere with an area light diffuse material together with a disc with an opacity map with the shape of a treetop.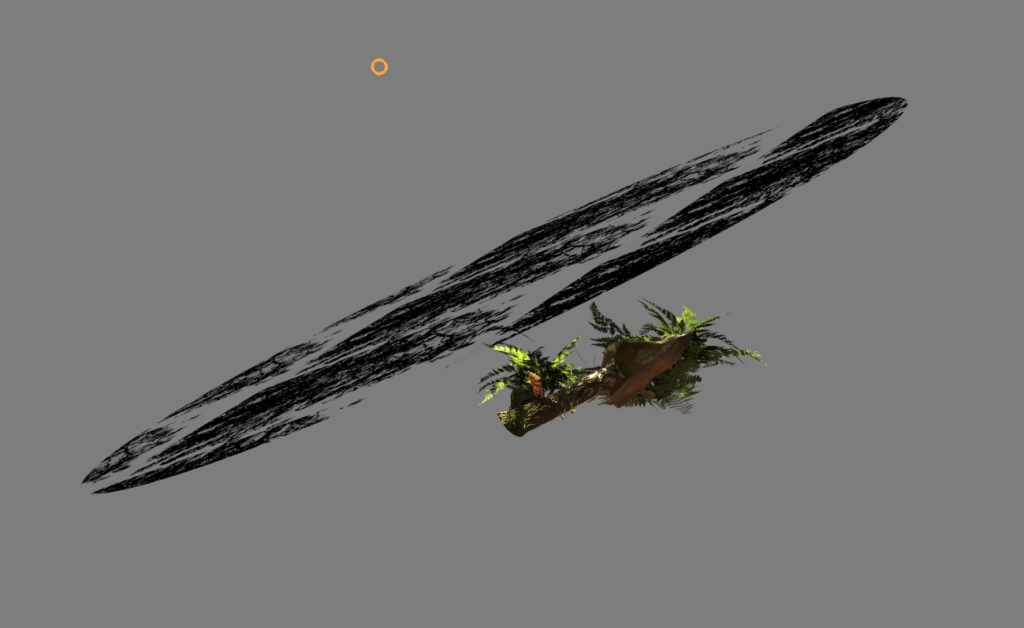 Materials
I used the new niobium metal with an anodized finish for the main parts of the beetles. See graph below.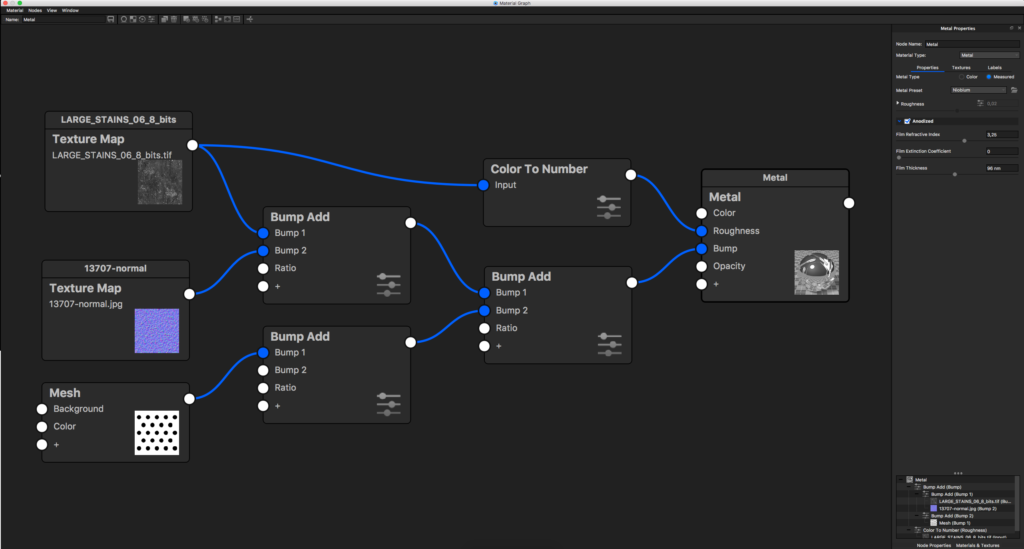 Post processing
The raw rendering was post edited in Photoshop. I did my usual process of adjusting brightness/contrast, color grading and addition of flare and glow. Below you'll see the raw rendering straight outta KeyShot.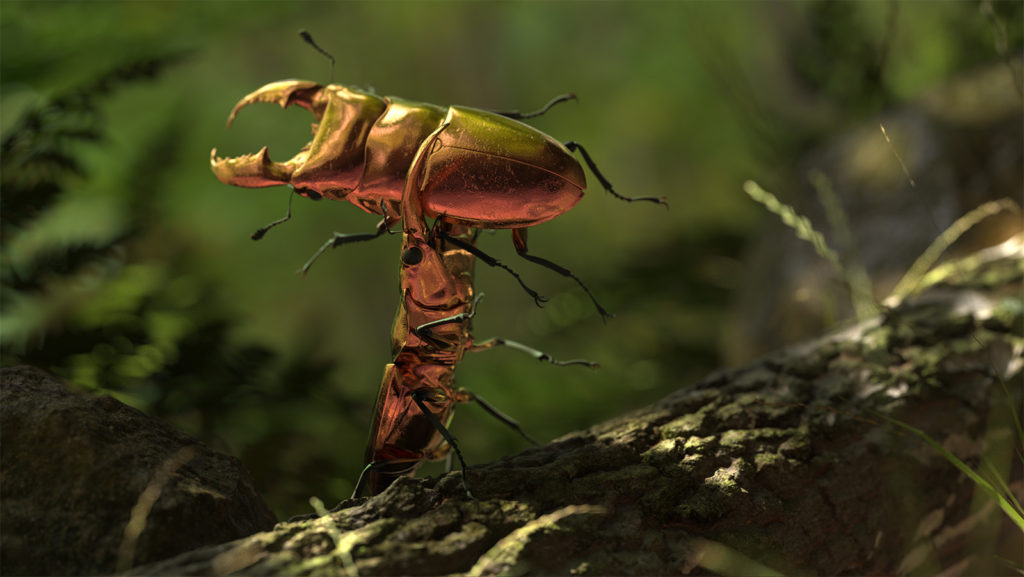 Results
Among more than 100 entries I was fortunate enough to be positioned in the top 6! Super thankful for that. Go and check out all the winners and runner up's!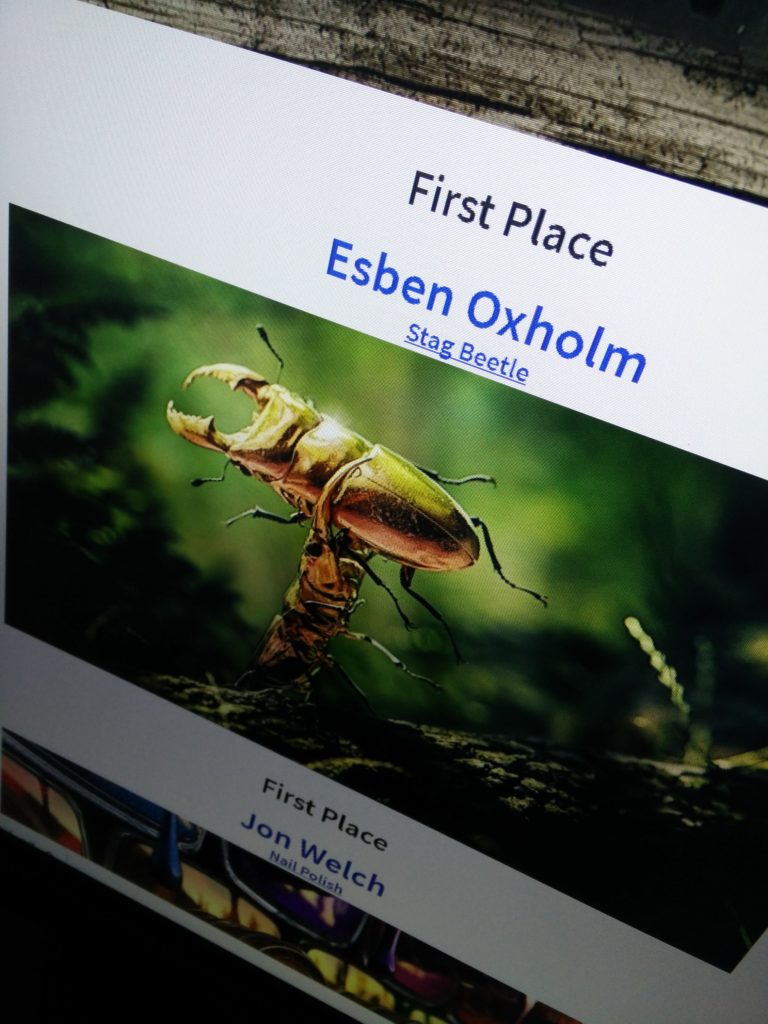 TEACHING
As much as I enjoy creating visuals myself, I also enjoy to pass on knowledge to others. This month I had the pleasure to spend 5 intense hours introducing 36 Industrial Design students in Aalborg, Denmark, to the power of the KeyShot material graph and showing them how easy and beneficial it is to create custom HDRI's from scratch using the HDRI editor. I hope no necks got hurt in the process!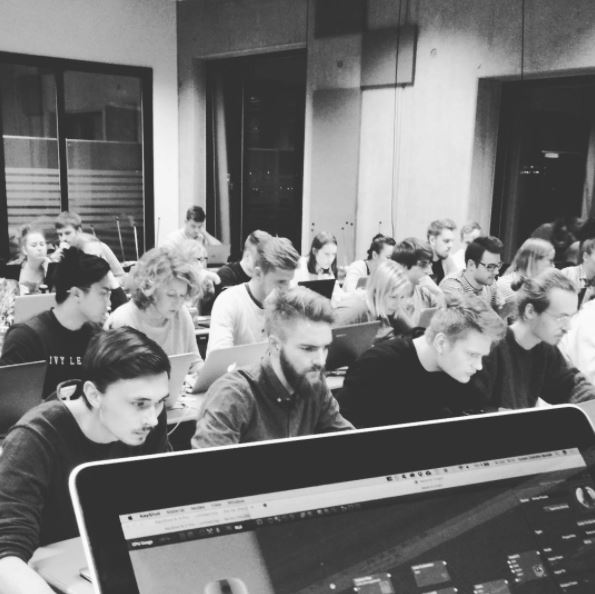 To get better at the teaching game I'm currently reading a book called Design for How People Learn
 (affiliate link) by Julie Dirksen. I'm only a few chapters in but have already gained a few good tips. I'm pretty sure that I can recommend it to anyone interested in teaching. Will let you know if otherwise when I'm done reading it.
GEAR
This month I had a huge upgrade to my system. The biggest yet, actually. While using my Macbook Pro has been a pleasure (and still is), rendering time began to become a bottleneck in my workflow. To overcome that I decided to buy a new workstation to take over the task of being the main system. After doing some research and weighing pro's and con's, I decided to build my own system to get as much power as possible for the money. I ended up building a system around the fairly new AMD Ryzen Threadripper 1950X (16-core/32-thread)
 (affiliate link). See the entire build below (affiliate links):
CPU:
AMD Ryzen Threadripper 1950X (16-core/32-thread)
CPU Cooler:
Noctua NH-U12S TR4-SP3 premium-grade 120mm CPU cooler for AMD TR4/SP3
with an additional Noctua (NF-A15 PWM)
 attached in a push-pull configuration.
Motherboard:
MSI X399 GAMING PRO CARBON AC
Memory:
Corsair DOMINATOR Platinum Series 32GB (4 x 8GB) DDR4 DRAM 3333MHz C16 Memory
Storage:
Samsung 960 PRO Series – 512GB PCIe NVMe – M.2 Internal SSD
 as the boot and system disk with a Samsung 850 Pro 512GB 2.5in 512G SATA III Internal SSD 3-D 3D Vertical Solid State Drive
 for extra storage.
Video Card:
ASUS ROG STRIX GeForce GTX 1080 TI 11GB VR Ready
Case:
Corsair Carbide Quiet 600Q Inverse ATX Full Tower Case
Power Supply:
Corsair RMx Series, RM1000x, 1000W, Fully Modular Power Supply, 80+ Gold Certified
Operating System:
Microsoft Windows 10 Pro
Read some insights to my thought process here.
The workstation runs the KeyShot benchmark scene at roughly 270 FPS, while the Macbook is at approximately 60 FPS. That is a factor of 4.5! What took me 1 hour to render on the Mac can now be done in 13 minutes. I haven't been using the system too much yet, but the speed difference is really noticeable. Also while working inside KeyShot.
MISC
Besides the resources already mentioned I've come across a few great sites I want to share with you.
The first one is yet another site with free downloadable 3D scans. If you are following me on instagram you probably know that I'm a huge consumer of 3D scans and I think you can never have too many to choose from when experimenting with lighting and materials. This site has more than 9000 scans (including the Colossal Penis (NSFW!) from Christian Levett and The Mougins Museum)  So, here it goes: https://www.myminifactory.com/scantheworld/
Next one is an awesome site with now free hi-res HDRI's. The guy at HDRI Haven have decided to release all his HDRI's under a CC0 license and rely on patreon contributions to run the site. Read more here. 
The last one for this month is a huge library of downloadable textile patterns and textures from sitonit that can be used as the base for fabric materials. If you are not sure how to use the texture to create a material, you might find this KeyShot fabric material study tutorial useful:
WRAPPING UP
That's all for this month. Thanks for reading. I hope you enjoyed this new format and I would love to hear what you think. Do you like the format? Should I get rid of something? Should I include something else? Also, let me know if you have any questions. Get in touch here.
Until next month – take care,
Esben.