RECAP: NOVEMBER 2017
Hi all. Hope you are doing great. Another month has passed (already!) and I'm back in with a handful of links and new stuff that you might wanna check out. Hope you enjoy it. Until next time, take care.
Cheers,
INSPIRATION AND NEWS SITES
In the beginning of the month I asked my instagram followers for great places to get inspired and to get CG relevant news. For inspiration artstation, behance, coroflot and pinterest seems to be the places to be (still) but a few package specific sites were mentioned as well: Lovely Package and The Dieline. Pretty cool stuff there to get inspired by for your next pack shot visualizations.
For good places to get news about the 3d industry, software and free CG stuff, CG Channel, Artstation and CG Press was mentioned. I haven't spend too much time there yet, but seems like good sites to visit now and then to stay ahead of what's going on in the industry.
KEYSHOT WORKFLOW
I'm spending quite some time on the KeyShot forum and came across two cool topics that I would encourage you to check out. The first one is a neat little trick to create a custom Clown Pass that works for shots where you have DoF enabled. See the full topic here, or view the specific trick in this video at 54.37:
The second one is a blog post with two different ways to create visible light beams in KeyShot. True volumetric lighting is not available (yet) in KeyShot, but can be 'faked'/created in a couple of ways of you need it. Check it out.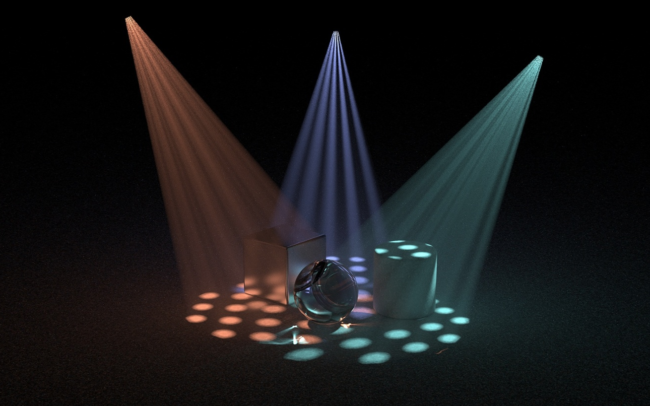 I also managed to carve out some time to create a tutorial on my own again. I did a short one on how to create a grazing beam of light across a wall. Add a lighting trick to your skills in no more than 6 minutes. Should be well spent 🙂
KEYSHOT ANIMATION INSPIRATION
I always find it motivation to see what other people create with KeyShot. Here are two recent animation project. The first one is a pretty cool one by Camomile Studios. What I really like about it besides the nice lighting work, is the great use of the toon shader to highlight different parts of the product.
The second one is a project I did myself for the swedish company Eleiko to showcase the hidden complexity of their barbells in a visually interesting way.. Watch it below and read more about the project and the process here.
MISC BOOKMARKS
During the month I've bookmarked a few free resources that I've come across. I haven't had time to check them out, but you might find them useful for your next project:
Free 3D humans, lounge chair, stools, chair and chair.
BONUS
Here's some pretty unique and strange, but interesting 3D artwork.
What is the most weird 3D stuff you've come across? Let me know in the comment section below. Love to be inspired by unconventional stuff.
Don't miss a link. Get a monthly reminder in your inbox when these posts are up.